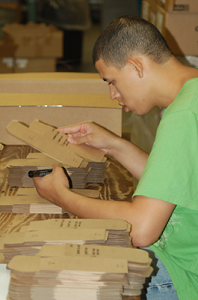 Sullivan Industries, a division of SullivanArc, has been providing production solutions for over 30 years. Its reputation for quality and on-time delivery comes from both local business and industry giants including:, Convenience Kits International, Majestic Drug, Amazing Savings, and King Zak.
Cutting edge technology, quality control, rapid turnaround, a 50,000 square foot warehouse with computerized inventory control, a full-time work force, and outstanding customer service provides you with a business partner whose goal is your satisfaction.
Services
Assembly and Sub-Assembly
Direct Mail
Collating
Display Packaging
Custom Packaging
Shrink Wrapping
Blister Sealing
Heat Sealing
Labeling
Custom Projects
Drop-Ship & Direct Ship
The Sullivan Industries Advantage
Versatility
Savings
Quality
Fully Insured
Pick Up and Delivery
Improved Cash Flow
Value-Added Service
Quotes in 24 Hours
Deadlines Met
Sullivan Industries is proud to hire individuals with disabilities.
Sullivan Industries Main Office
162 East Broadway
Monticello, NY 12701
Phone:
845-796-1350 x5105
Email:
General: sullivanindustries@sullivanarc.org
Sales & Marketing: sales@sullivanarc.org
Customer Service: customerservice@sullivanarc.org